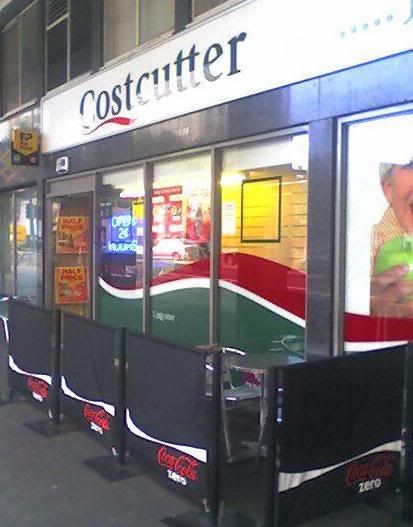 Costcutter
17-19 York Road
London, SE1 7NJ
TWIRL AVAILABILITY:
Average
TWIRL STORAGE:
On shelf
TWIRL PRICE:
59p
ADDITIONAL COMMENTS:
Twirl information and photo supplied by
wardytron
, who comments "They only had 5 Twirls left, although this might have been a result of their 24-hour opening policy. It's possible that 'all-night ravers' had come in and bought most of their Twirls in order to combat 'the munchies,' an affliction that affects drug users, not that I'd know about that sort of thing. Twirls were 59p. I've taken the picture at an angle so that you can see the table and chair provided in the event that customer wish to sit outside on a stinking pavement surrounded by traffic fumes and birdshit".